FN SCAR-L

Type

Assault Rifle

Manufacturer

FN Herstal

Country

Belgium/United States

Cartridge

5.56x45 mm NATO

Capacity

30 rounds

SP

Medium-Fatal

ROF

Medium
The SCAR-L (Special Operations Assault Rifle- Light) is an 5.56x45mm chambered assault rifle seen in the SOCOM games.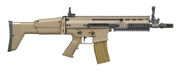 The SCAR-L is a 5.56 mm assault rifle, compared to the SCAR-H, no less, is effective as an assault weapon at any range.
Shares the same ammo as the M4A1, SR-22, M16A2, STG77, and other 5.56mm weapons.
Accurate
Effective at longer ranges
Compared to the SCAR-H, it offers 10 rounds more than the H variant (which is 20 7.62x51mm rounds)
Weaker than the SCAR-H
Ammo is rare until the mercenary clad missions (In FTB2)
Must be bought, along with the SCAR-H (although the SCAR-H is more expensive)
Community content is available under
CC-BY-SA
unless otherwise noted.