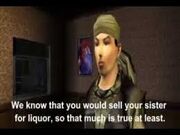 Vidonia
was an officer  And a interagator in the Revolutionary Armed Forces of Brazil.
During the SOCOM Operation: Good Neighbours, Vidonia and her accomplice,  Lianor, discovered that a local man named Felix Baptista was actually an informant for the RAFB's enemies. Vidonia continuously beat him until Specter's team intervened.
Vidonia can be captured instead of being killed, if the player chooses to do so. She can withstand withstand more flashbangs than Lianor however.
Occashionally a glitch will occur where the nametags over the heads of Vidonia and Lianor will switch, or become mixed up.